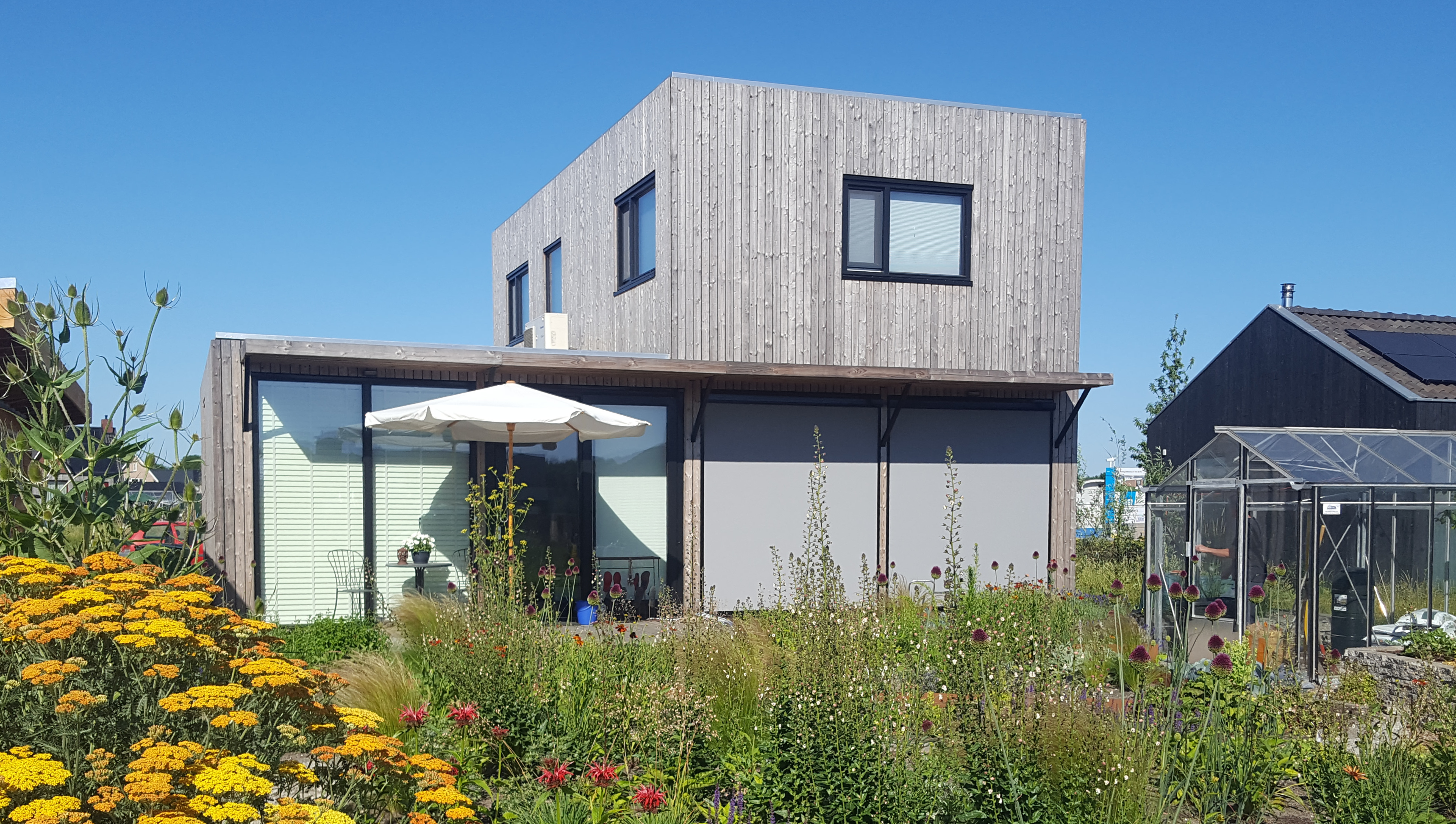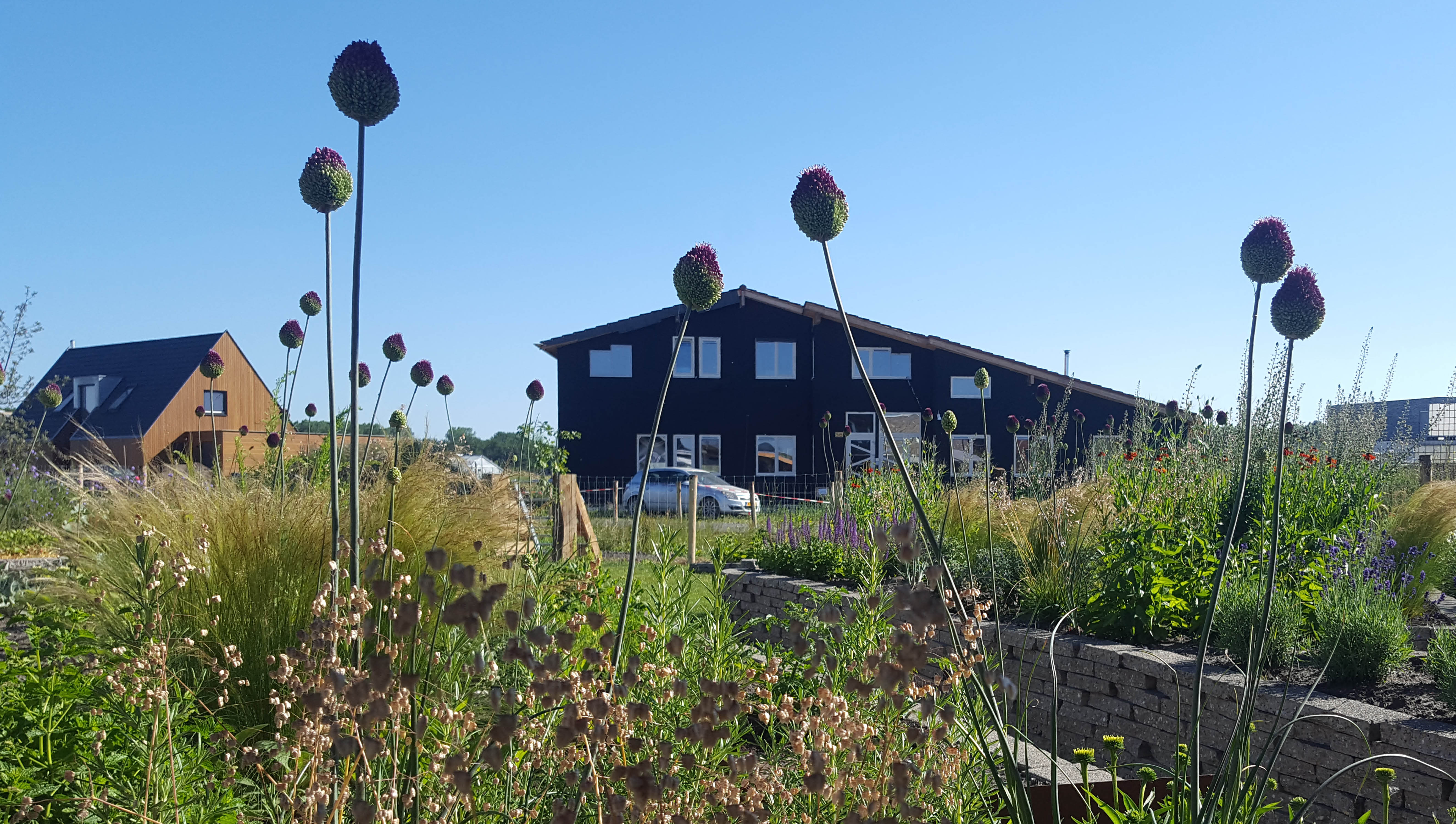 Buitenplaats
Garden design
Typologie: Garden design, Planting design
Location: Buitenplaats Oosterwold, Almere, NL
This garden is located in a former agricultural area where new housing communities are developing. The context was still under construction when the design phase began, but some boundaries were set. This plot is part of a project called Buitenplaats Oosterwold, in which inhabitants are expected to do urban farming. Besides that, they aim for a healthy and social community in which inhabitants share goods, a part of their garden and even a sheep pasture folded around the terrain. No fences are allowed in between the gardens to secure the open atmosphere and the wide views.
The design of the garden is based on placemaking, urban farming, preferences of the client and the philosophy of the community. The house, shed, helofyte filter and sheep pasture where already in place, together with strips of 2.5 meters on both sides of the plot which needed to remain accessible. The well that collects rainwater from the roof was installed so it could be used to water the plants. A terrace was attached to the house and the shed provides a shaded seat.
By making hard edges, the planting beds do connect to the orthogonal shapes of the buildings, while their shape and heightdifference add a more dynamic feeling to the place. The patch of grass provides a third place to sit, in distance of the house. Small wood chip paths stimulate the urge to explore and allow wheelbarrows to pass through, because parts of the garden are used for urban farming. Herbs can be harvested along the edge of the bed facing the terrace, another strip and a greenhouse are used for growing crops and a chicken coop will be added to collect eggs.
Besides that, a planting plan is made in which plants blend in together and support an aesthetic ecosystem throughout the seasons. The composition plays with colour, textures, sound, smell and touch. A large variety of plants is used, but species are repeated in order to anchor the garden as a whole. Heightdifferences of the planting beds and the plants itself are used to guide views, block them and to facilitate easy acces to the vegetable gardens.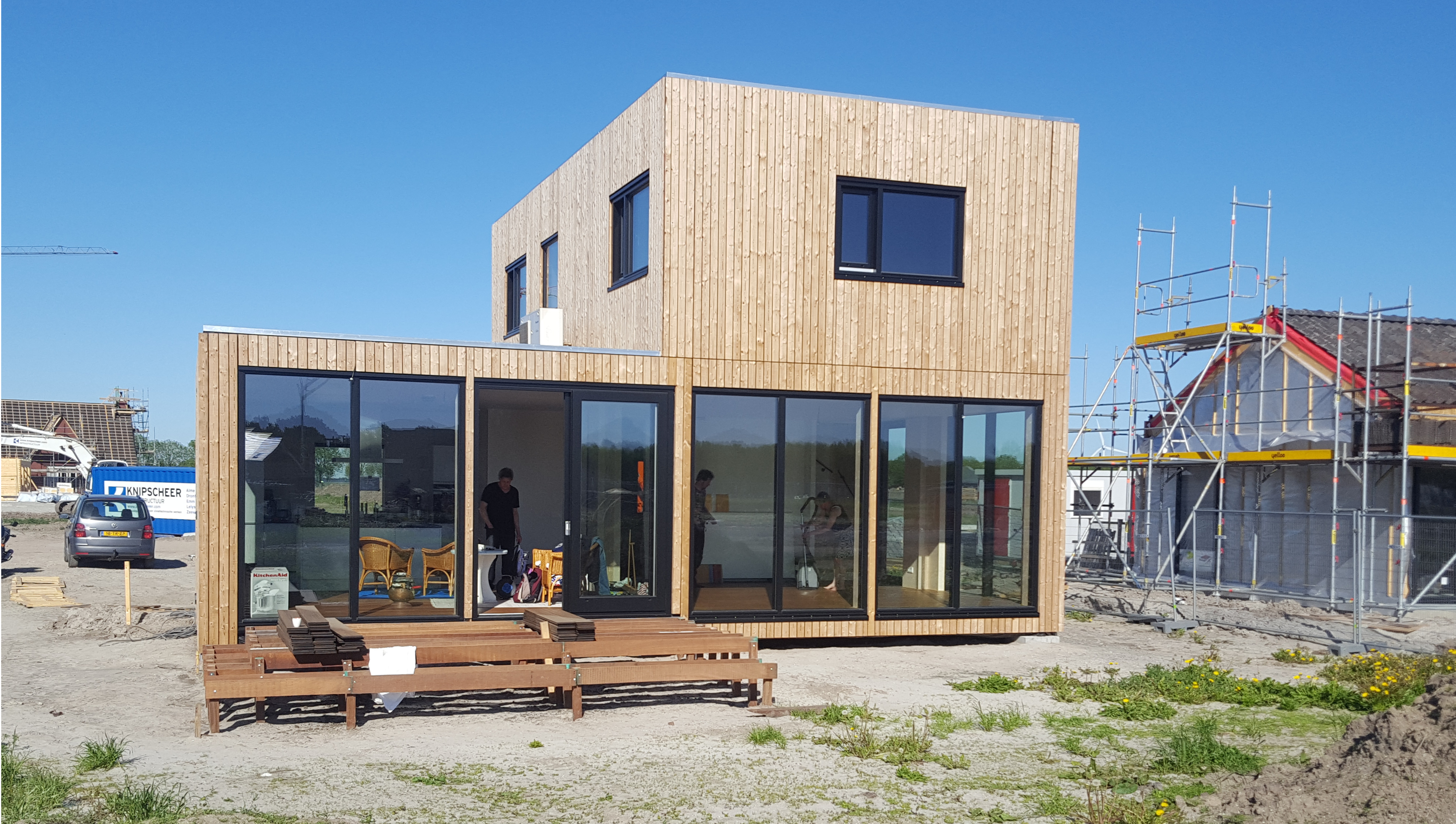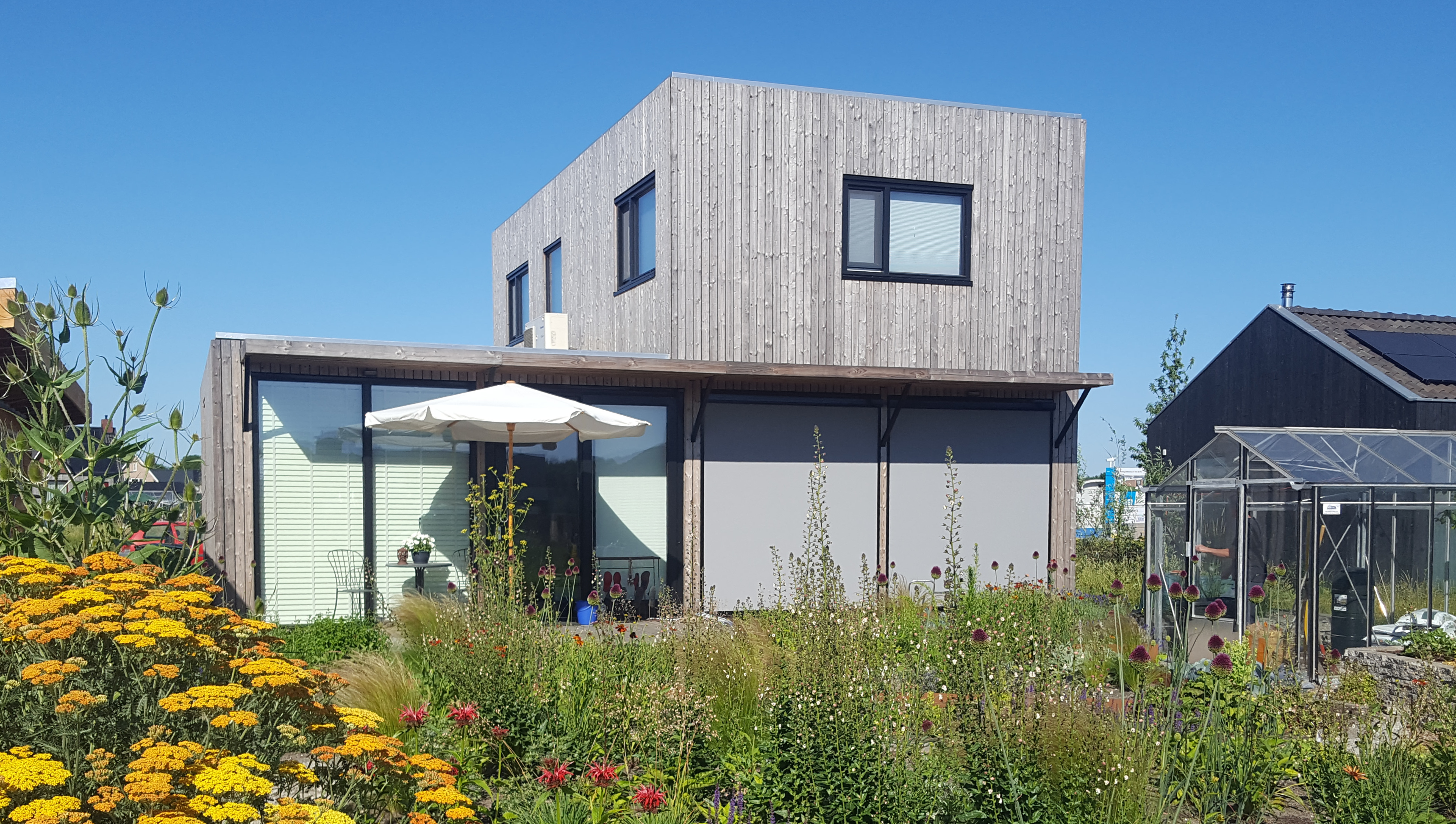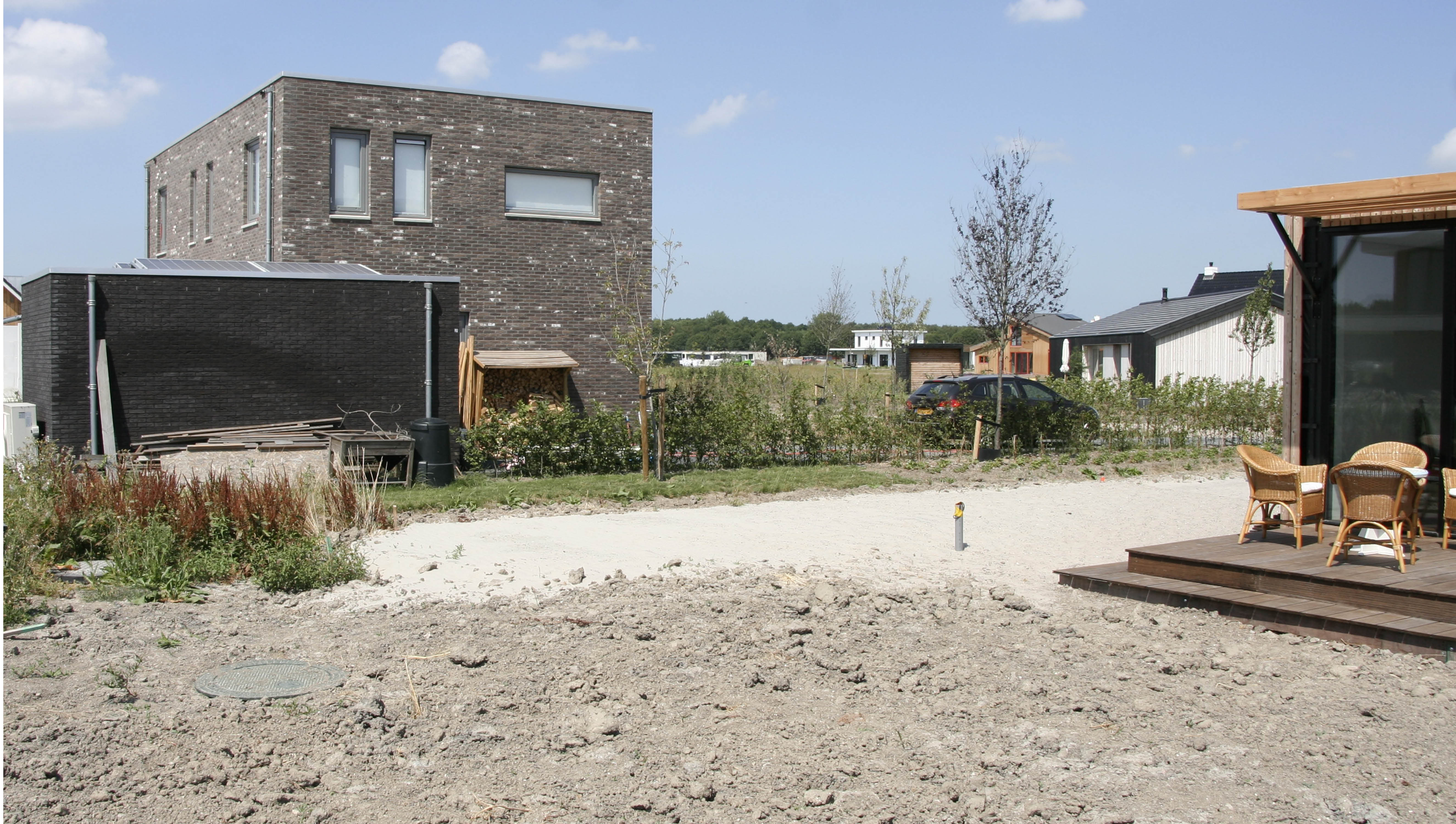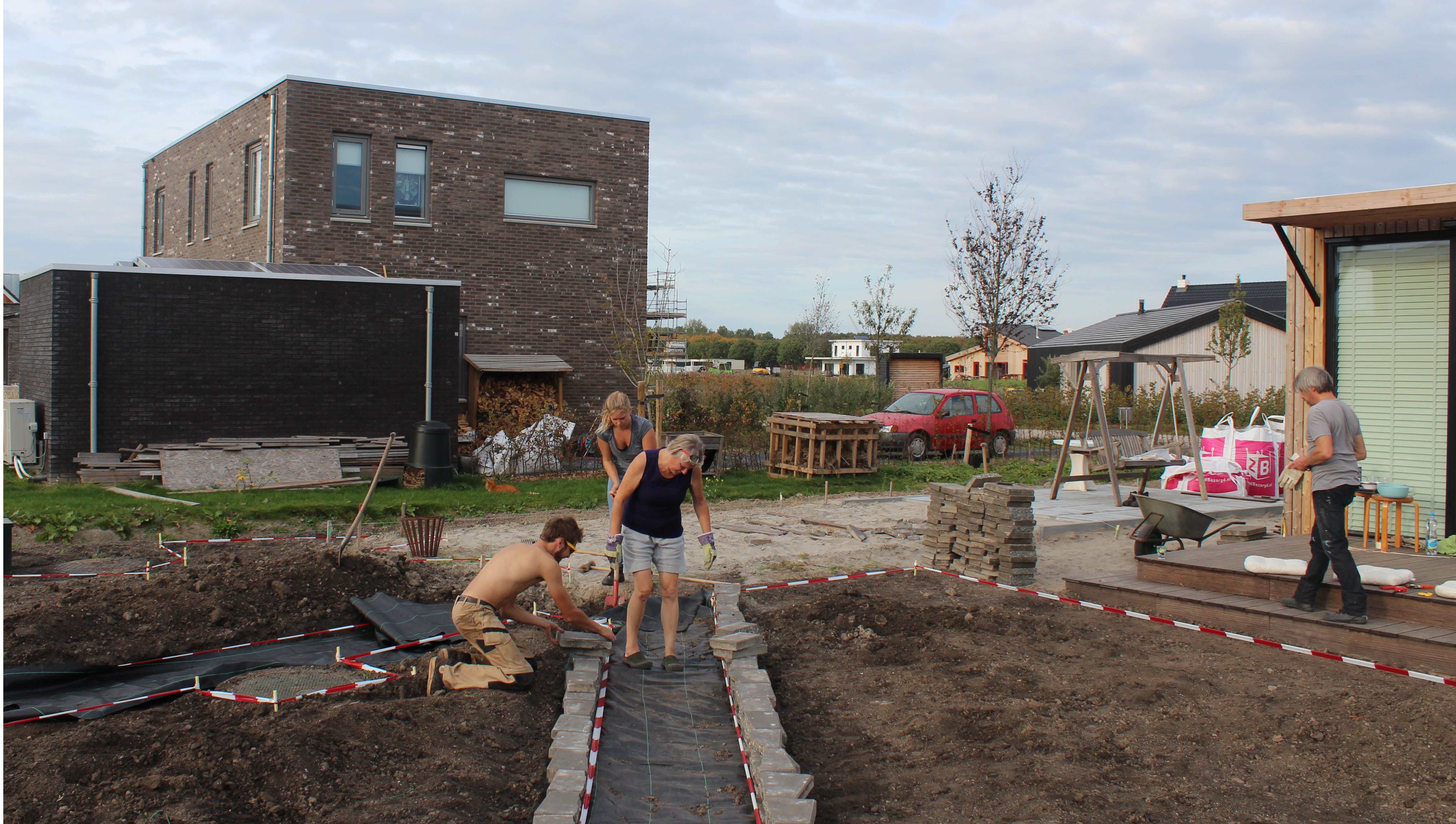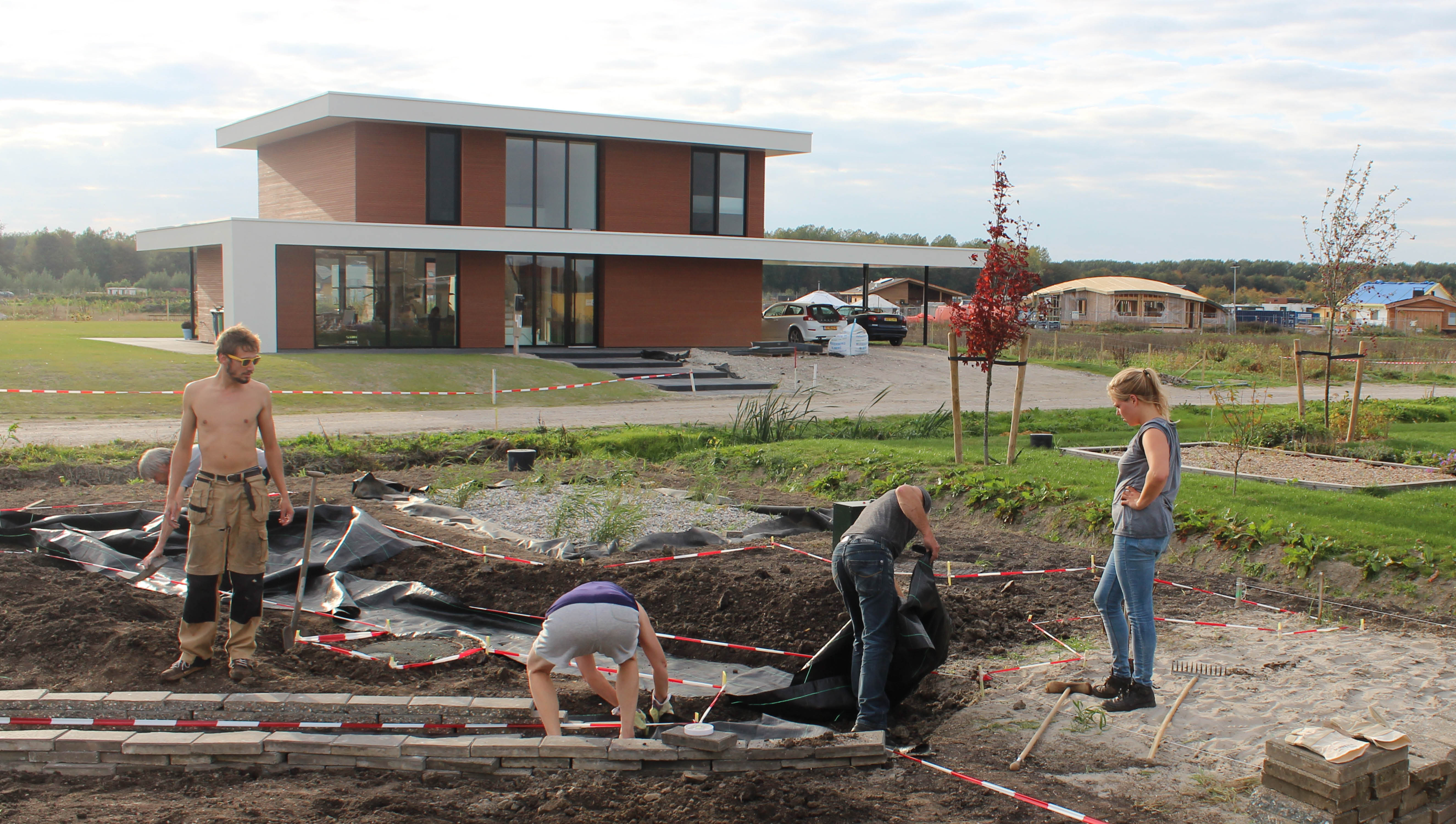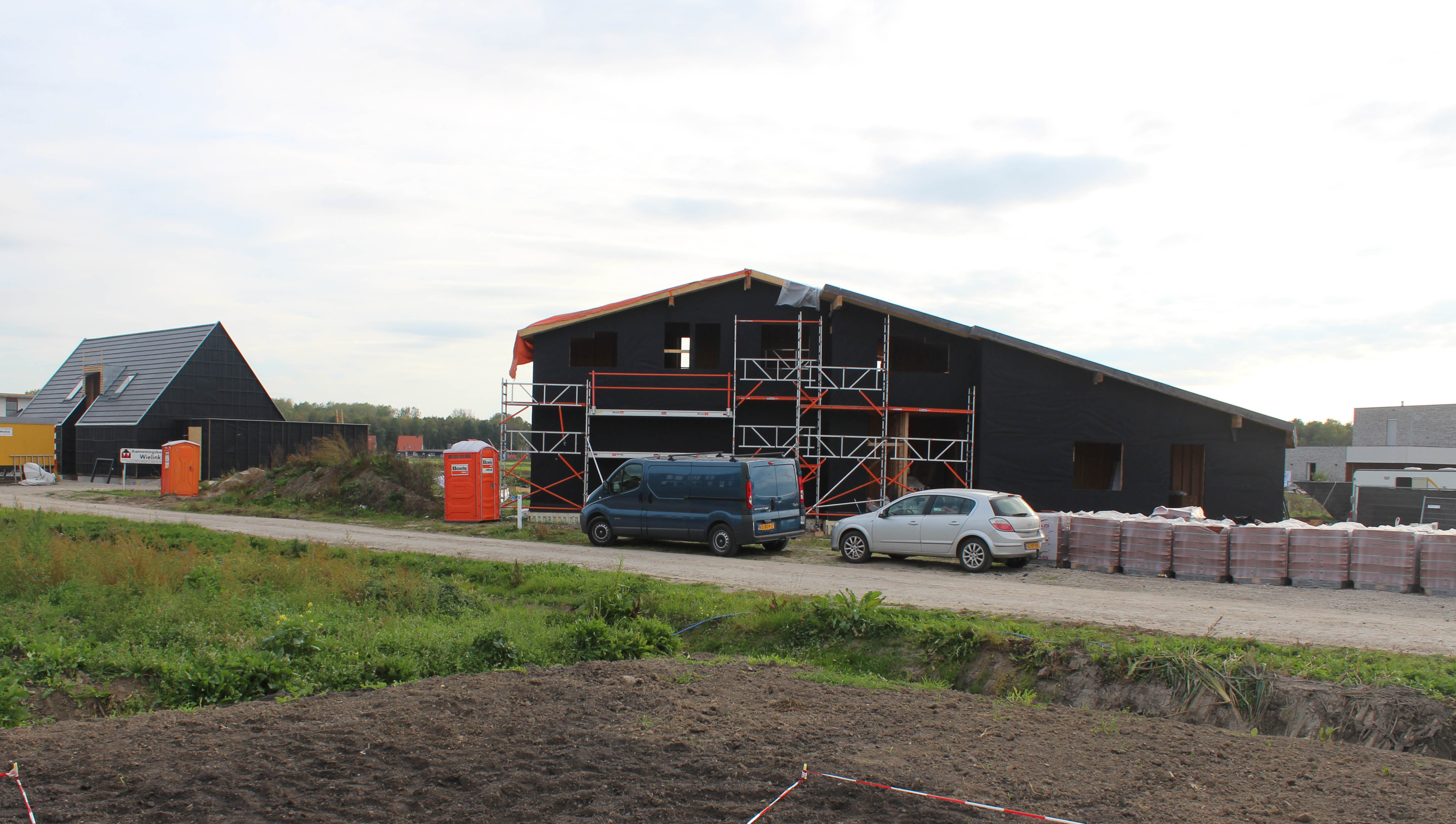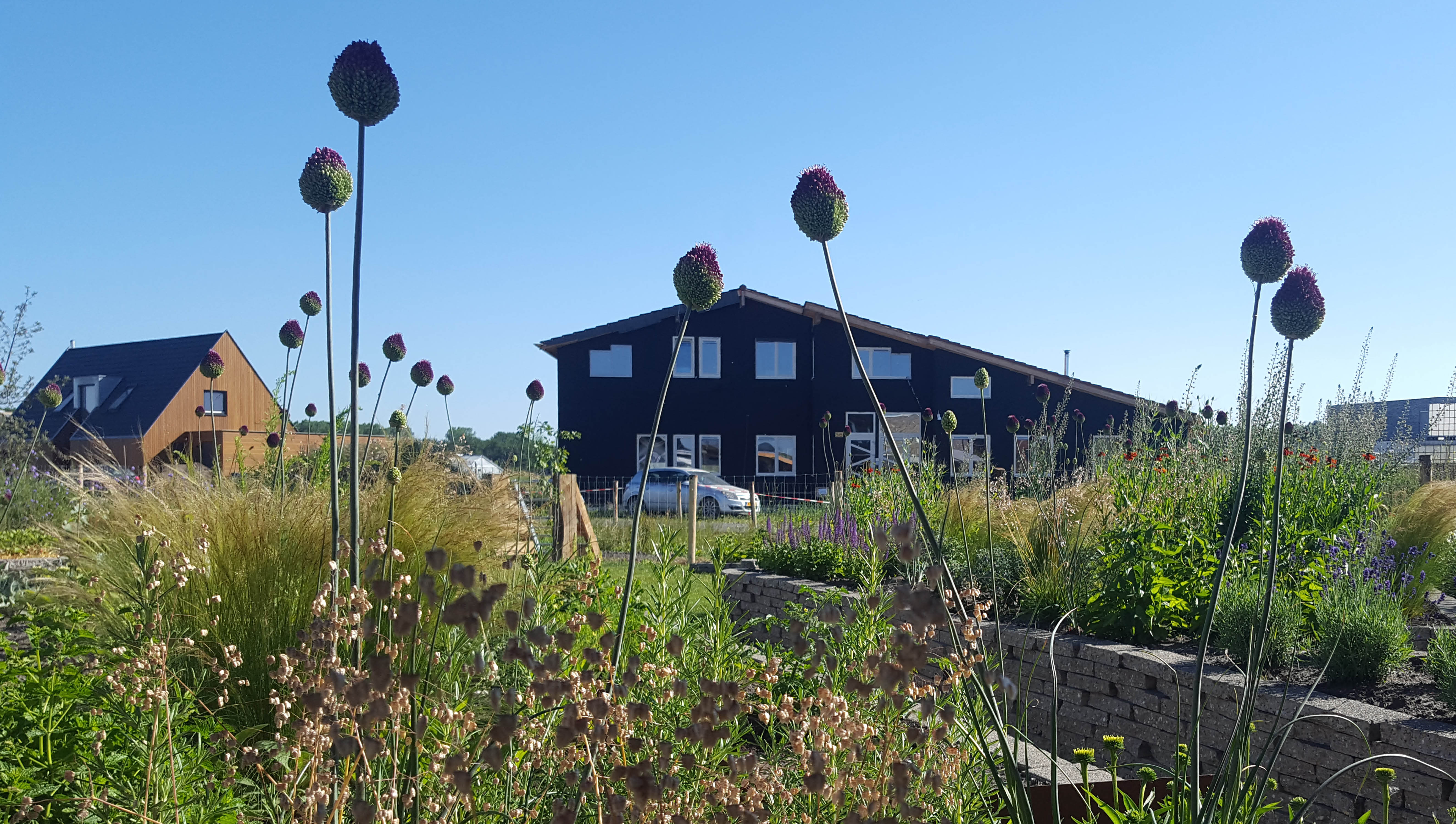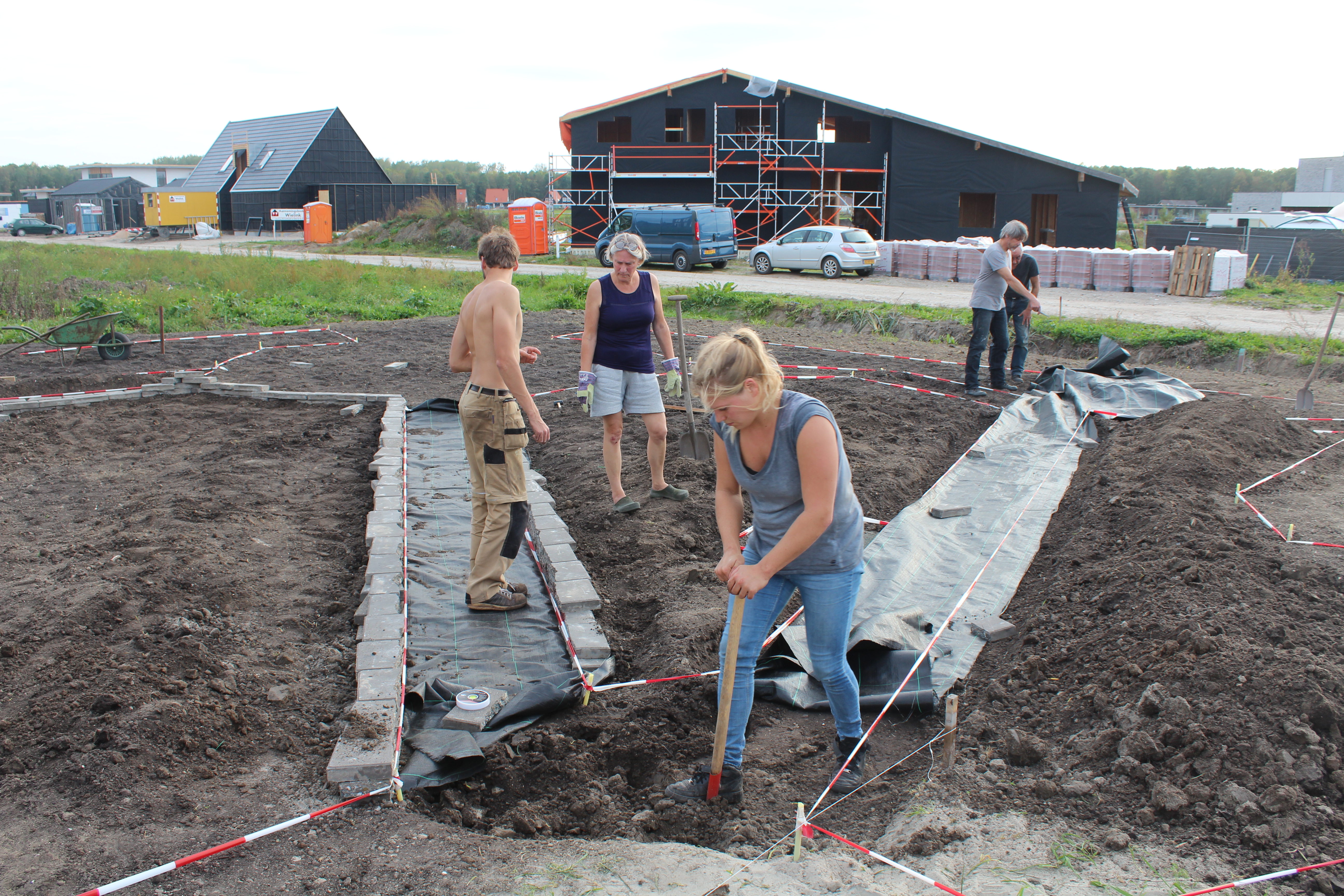 Proces
After making the design, I was involved in the construction of the garden. Together with the client and friends, we built the garden ourselves and adapted to the challenges at hand. First of all, the soil needed to be prepared and the shapes of the planting beds had to be made. We decided to build the stone walls from street tiles; when broken in half, these tiles have a rough texture. Little gaps in between these stones provide shelter for insects and small animals. After building the walls, the paths were filled with wood chips, fresh soil was added and the plants were placed. During the first summer plants allready started to grow extensively, but this proces will continue to show changes during the day, months, seasons and years.